| | |
| --- | --- |
| | Saturday, January 8th 2022, 17:18 |
-- I'll probably regret this when I finally lose my data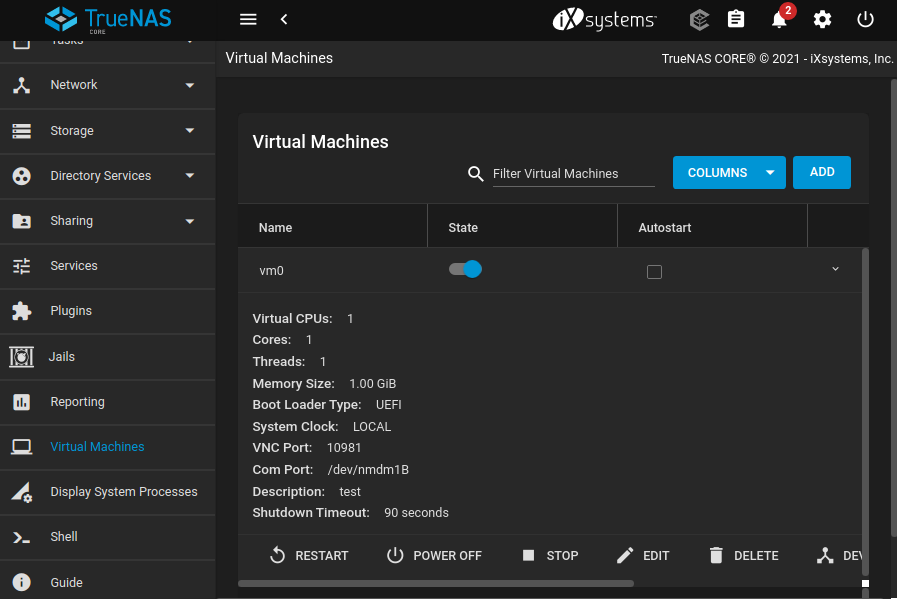 I've been meaning to transfer my Raspberry Pi based services into a virtual machine on my main server running TrueNAS for a while now, but I've always delayed as I didn't know where to store the VM's disk. I have 7 disks in my main server: 2x 128 GB SSDs as the boot array, 4x 4 TB HDDs as the main array, and another single 4 TB HDD for less important data.
Basically, I don't care where I store the VM, but I want my HDDs to spin down during the night and low load periods. Since a VM will definitely keep the drives up, the mechanical drives are out, leaving me only with the boot pool. It has enough storage for what I need, but, and here comes the problem, TrueNAS does not allow me to keep custom datasets on the boot pool.
But, under the hood, TrueNAS is just FreeBSD. So as I had some time over the holidays, I set out to find a solution to do it nonetheless.
WARNING! This guide is definitely not how TrueNAS is intended to be used. It's dirty and terrible. If you brick your installation (even if you followed this guide perfectly), or even worse, lose your VMs and data, don't tell me I didn't warn you. Only do this if you can live with losing everything and having to reconfigure your entire system.